#fightersKF If you want something, you can definitely do it
28 August 2020 · 10 minutes reading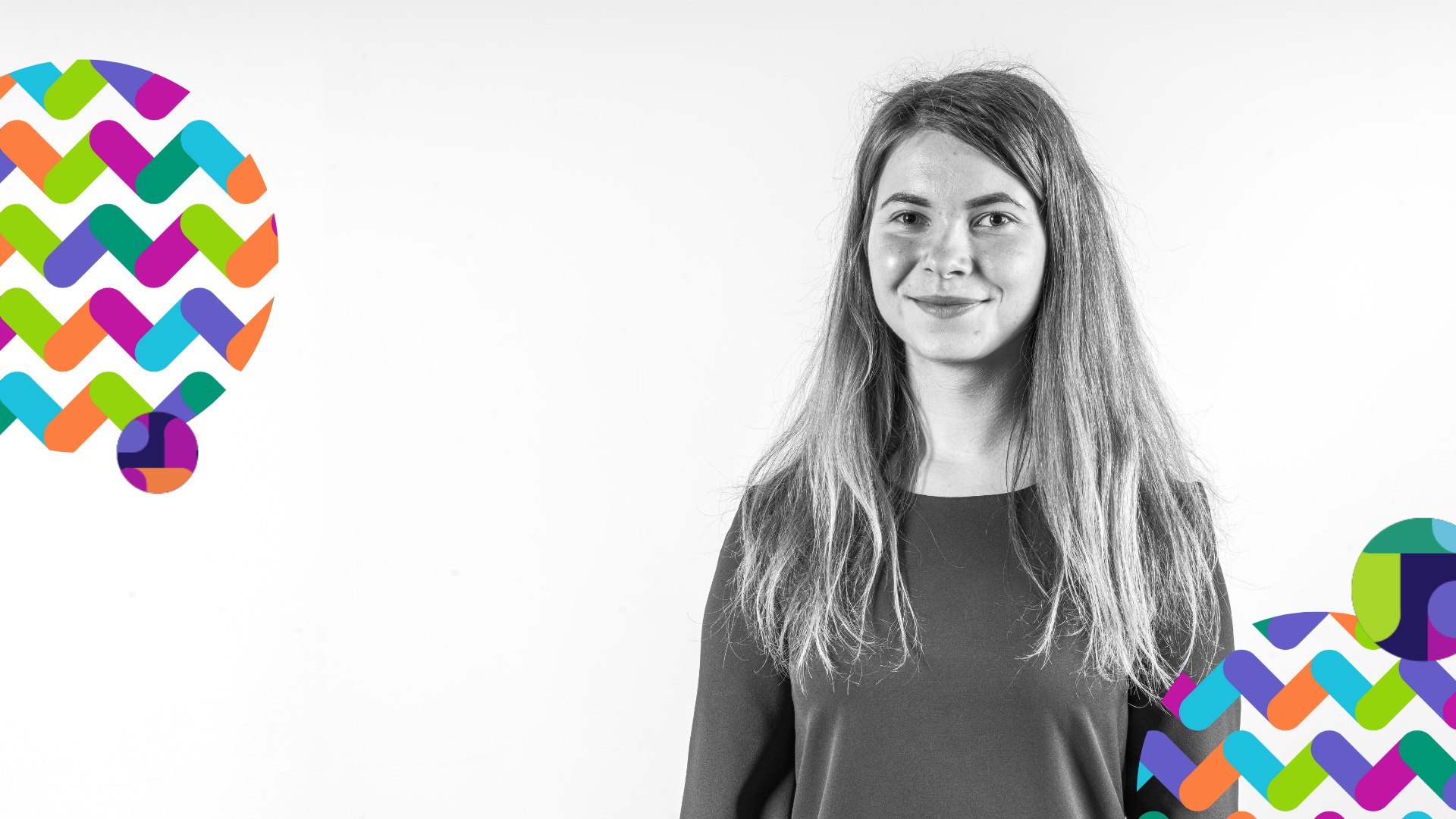 Sophia Tarasiuk, Communications Assistant, on volunteering, peculiarities of working in communications and hobbies
Each member of the foundation's team brings their own special part to each project.  We talk about the lives of those who create the foundation's projects, what they dream about, how they spend their weekends, and what inspires them in the #fightersKF interview.

How did your story with the foundation begin?

The Foundation came into my life through the School of Success project in 2014. The most interesting thing is that Alina Nosenko was my mentor, and Dmytro Kryzhanivskyi was the psychologist (at the time, each team had a mentor, a psychologist, and two counselors at the School of Success). Each team had certain specializations. Guess what mine was? Oddly enough, communications! Back then, Alina Nosenko was conducting trainings on this topic, and I still have a notebook with notes from those classes. And who could have imagined that in 5 years I would become part of the foundation's team and work in communications!

After the School of Success, I followed the foundation's news and last year I came across a volunteer opportunity - that's how I became a volunteer at the foundation for 3 months. My next plan was to become an intern. But it didn't work out as planned... And it turned out even better - I became a communications assistant and was already supervising the work of the fall intake interns.

That's how the foundation became a place of career and personal development in my life. The Klitschko Foundation is a part of my life, every day and every minute.

What projects are you working on and why are they important to you?

If you work in communications, you work in all projects. I don't have a scale of priority for projects, because each of them is unique in its own way, but the most valuable thing for me in each of them is people. Each time a new environment, creative ideas, incredible opportunities, knowledge! All of this together makes me feel happy, because when you share something of yours with others and see that it benefits the participants, the project, and society as a whole, you realize that you are not living in vain, that you are in the right place, and that what you do is really important.

I believe that the drawback of modern Ukrainian society is excessive criticism of everything that happens, and at the same time an unwillingness to change at least something. However, the Foundation's projects show that there are still Ukrainians who are ready to act, learn, and implement changes. The Foundation unites such people, provides them with skills, knowledge, motivation, and support, and thus moves the whole society in a positive direction. Local projects and feedback from the participants themselves are proof of this.

Have you ever had a moment while working at the foundation that significantly changed your values or views on something?

My views changed at the School of Success 2019, when, standing on stage with the foundation's team, we were thanked. At that moment, I was going over in my head everything that had happened to me during my volunteering period: mentor training, meetings in the office, and the check-in. And suddenly I caught myself thinking: "Wow, I became a volunteer at the Klitschko Foundation! During this period, I have changed a lot and definitely for the better. I am proud of myself."

"I used to think: "To implement projects, you need to have a lot of experience, graduate from university, and be over 25 years old."

And when I started volunteering, I realized that if you have a desire to be useful to people, not to waste your time on nonsense, but to develop and learn, then nothing can stop you. At 18, you can become an employee of the foundation, as happened to me, or at 23, a director, like Alina Nosenko, and at 14-15, you can implement your own project, as our project participants do. All restrictions are only in your head. If you want something, you can definitely do it. That's why I start every morning with the thought: "Turn your dreams into reality!"

What do you like most about your job?

Movement. This is what a person from the communications department cannot work effectively without. If someone imagines that working in communications means a laptop, texts, and that's it, they are very wrong. My work is dynamic, I never sit still, tasks are constantly changing, a hurricane of interesting information is raging around you, and every person is a walking story. Interviews, articles, questionnaires, presentations, photographs - it's impossible to list everything. Yes, sometimes this constant movement is tiring, but it also inspires, develops, and, in the end, it turns out that you are constantly working to improve projects and yourself as a professional.

What character trait helps you the most in your work?

I love to listen. It may sound strange, but it helps me in my work. I love to hear the stories of interns, participants, team members, and guests of the foundation. Each person has something special in them, and I am always interested in discovering different extraordinary facets in a person.

Who would you like to have coffee with?

During the quarantine, I have a strong desire to have coffee with everyone I know.

Seriously, though, I'd probably like to have coffee with my music school teacher, Nelia Arkadivna. She is a very wise woman. And all our lessons were not limited to playing the instrument. All this was combined with life advice and personal stories. I haven't seen her for a few years, so she is the person I would most like to meet.

1 thing you can't live without?

Tea. I love it very much. At any time of the year. I drink it all the time in the office whenever I have time. Having a cup of tea, and if you're in a good company, you feel good right away :)

What advice would you give to your teenage self?

Don't be afraid to act! I give this advice to my current self every day. Thinking back to my childhood, I recall all those moments when various opportunities opened up for me, but due to certain circumstances, I did not use them. Now I try not to make such mistakes. I often tell my friends and acquaintances about various opportunities for their development. And it's very nice when they listen to my advice and then become participants in various projects and competitions, or when you see their names on the lists of participants in the foundation's projects. 

What superpower would you like to have?

Oh, I guess I would like to consider all my skills that I am developing to be my strengths, my superpowers. One of the superpowers I plan to master in the near future is public speaking. I admire those who can speak well in public. I love TED Talks. Isn't it fantastic when one person can inspire others to take action, make someone think about important issues, or convey their own thoughts by saying certain words? 

What inspires you in life?

What is inspiration in general? It's the moment when a spark is ignited in you and, in turn, it generates ideas, desires and dreams. I am inspired by my parents, friends, traveling, and books. There is no single recipe for inspiration. Everything together inspires me to do something. One day it might be flowers I see while walking from the subway, and another day it might be a few pages of a book I read. 

What do you dream about?

I dream of traveling around the world and writing a book about it. Or maybe not a book? Maybe I'll make a movie! Or I will gather a whole group of people who will realize this dream with me. I don't know exactly how I will realize this dream, but I am 100% sure that it will be something very cool and something I will be proud of. 

What is your favorite place in Kyiv?

The KPI library. It's very cozy and the atmosphere there allows you to completely immerse yourself in your thoughts. And you can hardly find that in the always bustling Kyiv! In general, I really like places where I can be alone with myself, dream, plan something, or even just sit and watch the library visitors. As a first-year student at university, I probably spent most of my free time there.