Wladimir Klitschko was the first in Ukraine to receive the Golden Heart Award for charitable work
Wladimir Klitschko, the world heavyweight boxing champion, was the first in Ukraine to receive the Golden Heart Award for his charitable work from the German Ein Herz für Kinder Foundation (Heart for Children).
Over the 20 years of the award, its winners have also included Prince Harry, Queen Sylvia of Sweden, Princess Charlene of Monaco, tennis player Steffi Graf, as well as actors George Clooney, Sharon Stone, and Salma Hayek.
The award ceremony took place on December 5 as part of the 42nd annual charity telethon. It is attended by well-known public figures, businessmen, politicians, athletes, and actors, who make donations in person and encourage the audience to do so. All funds raised at the event go to the implementation of charitable projects in various countries around the world, including Ukraine. Such initiatives include combating the effects of the Chornobyl disaster and treating children with cancer. The athlete is a regular participant in the telethon and donates money independently. This year, with his help, the organizers managed to raise a record amount — almost 26 million euros.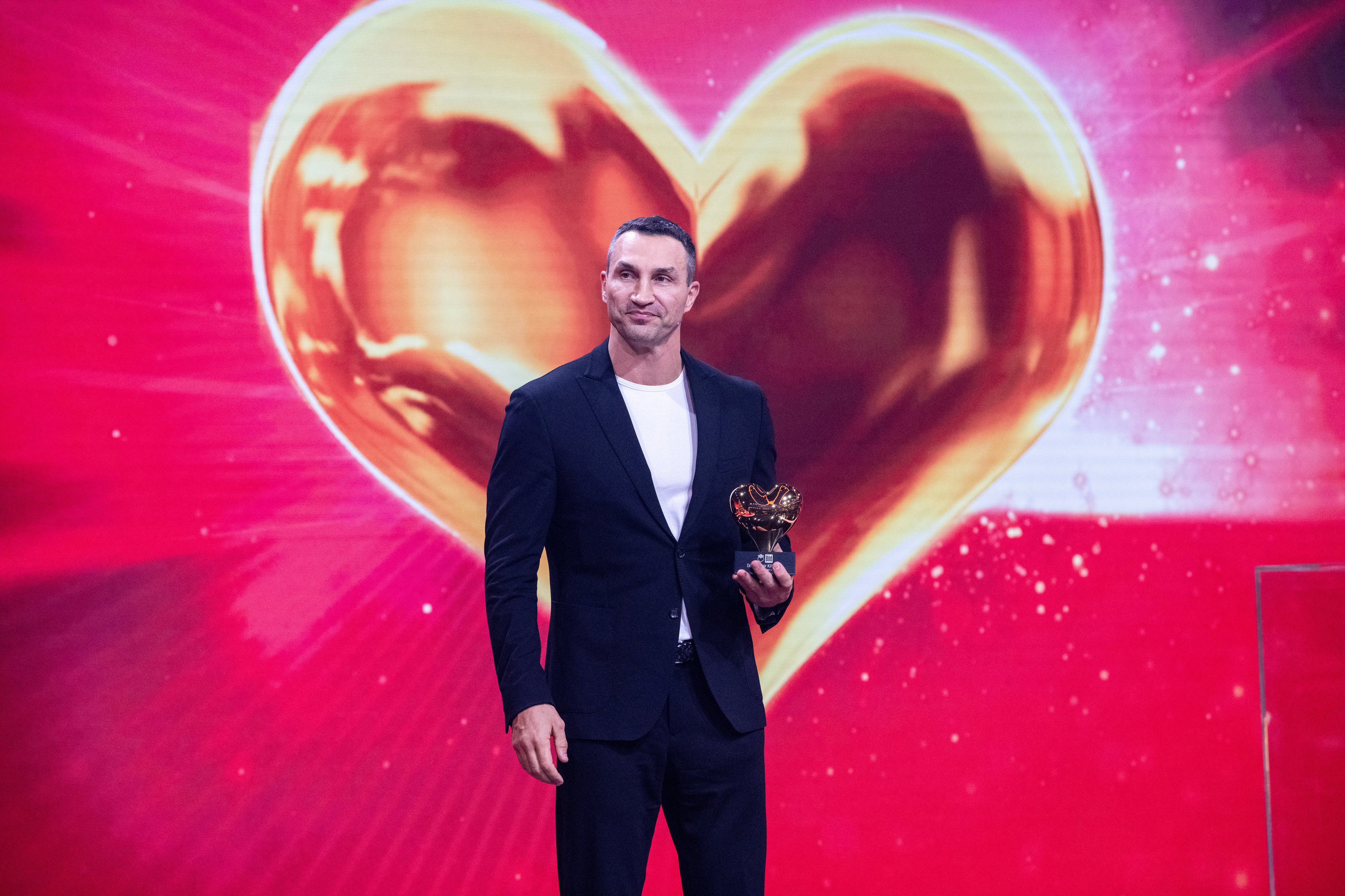 Wladimir Klitschko has been an ambassador and a member of the supervisory board of Heart for Children for many years. In Ukraine, he passes on his knowledge and promotes sports and education among children and youth. So, together with his brother Vitaliy, the famous athlete supported almost 2 million children through the programs of his foundation — Klitschko Foundation. For example, since 2011 the foundation has been running the School of Success project, an educational project for teenagers that helps to acquire skills of the XXI century — project management, creative thinking, communication, financial literacy, fact-checking, public speaking.
'I have a dream — good must defeat evil. The question is how to achieve this. I think that the children we inspire can help us become stronger and more confident. Such children will become strong and confident adults. I call this the cycle of life. Today, the Golden Heart award is given not only to me but also to my brother Vitaliy and about 2 million other children, whom we have supported for 17 years through our charitable foundation,' comments Wladimir Klitschko.
The German charity Ein Herz für Kinder was founded in 1978 by Axel Springer to help vulnerable children and families around the world. The foundation supports children's hospitals, kindergartens, schools, and various sports, educational, and research projects and has already implemented many charitable initiatives worth more than 355 million euros. Since 2008, the fund has managed to implement more than 300 social projects in Ukraine. Among them are assistance in the treatment of serious diseases in children, financing of operations for Ukrainian children abroad, educational programs, repairs of schools, sports, and social facilities, etc.