#story2020 We moved the project online
Two weeks before the start of the educational project, we learned that quarantine had been introduced in Ukraine. How did you adapt and what lessons did you learn?
Alina Nosenko, director of the Klitschko Foundation
3 years ago, together with partners Aspen Institute Kyiv, we decided to create a philosophical seminar for teenagers "Realms of the Future". Before the start of the project, the participants study adapted philosophical texts — from Descartes to Fukuyama. In a friendly circle, teenagers express their opinions, and moderators support discussions and ask questions. This format allows young people to decide on issues that concern them at a special age - love, family, happiness, finding a life destination, choosing a profession. In addition, participants learn to think critically, listen and hear, express their position and respect different opinions.
In November, we began preparing the fund's annual report. In my interview, I said that in 2020 we will move more in online education. However, I did not think that I would have to do it so quickly and in such conditions. During the Zoom conference with partners from the Aspen Institute in Kyiv, they asked questions — do we take risks and do what we have never done, or cancel a project for which we have been preparing for so long. It's good that our colleagues are as brave as we are — we decided to try.
We started by making alternative plans, created a test online seminar for colleagues to experience everything for themselves. During this period, it was important to understand what needed to change in order to convey knowledge just as effectively. It turned out that we were in almost round-the-clock communication with the participants: not only tried to get advice on the project, but also morally supported each other. They also knew that teenagers sat at the computer too much now, so they did exercise after each task block.
Tip: Know your target audience well. We have been working with ours for 17 years, so we understand how to collect feedback — we did surveys in Telegram, created Google-forms, asked questions on Instagram. This is how they learned when teenagers have lessons, on which days and on which platforms it is more convenient for them to work. We added physical warm-up, made such changes to the program to create the most interesting and comfortable conditions. Of course, do not forget about moral support. We know from experience that often 3 days are not enough to answer all the questions, to reach the logical conclusion in all discussions, so we were ready to continue communication outside the seminar, support with advice or just listen.
Julia Tychkivska, executive director of the Aspen Institute Kyiv
At the beginning of the quarantine, the team of the Aspen Institute in Kyiv and the Klitschko Foundation were challenged to hold a seminar for teenagers "Realms  of the Future" online. It was a fairly new format for all of us at the time, and our expectations were quite pragmatic and not overly optimistic. After all, it is always better to reflect on important, valuable topics by discussing classical and modern texts among the selected participants in a picturesque place, in this special group atmosphere of the Aspen seminar. However, to the great surprise of the organizers, the seminar exceeded all our expectations.
The peculiarity of Aspen seminars is in the methodology of their holding. The Aspen Institute invites moderators to each seminar, whose role is to lead the dialogue. In the online format, the importance of moderators has only increased. I am grateful to our wonderful moderators who were able to provide lively discussions so accurately that they did not lose to live formats in terms of their dynamics. From a technical point of view, there were no problems either, as the Zoom functionality is convenient for moderation — there is an opportunity to raise your hand, applaud, non-verbally show what needs to be repeated or wait. We also invited the participants of the seminar to various "virtual rooms", where practical group work took place.
As with any new business, success is reflected in constant reflection, feedback, and work on bugs and improvements. After each day of the sessions, we analyzed the work and made the necessary changes. For example, they changed the time intervals, added a "question-answer" block to the program.
Tip: Regardless of the purpose of the online conference, engage a moderator. If we are talking about an online project, the moderator should charge energy and keep in touch with each participant — to clarify opinions, conduct surveys, provoke discussions. We transferred this principle to working meetings, which had a good effect on efficiency. However, the most important piece of advice is to keep in touch with your friends and colleagues. Discuss what is really important, plan joint actions. It is in dialogue that we find the best solutions to complex problems!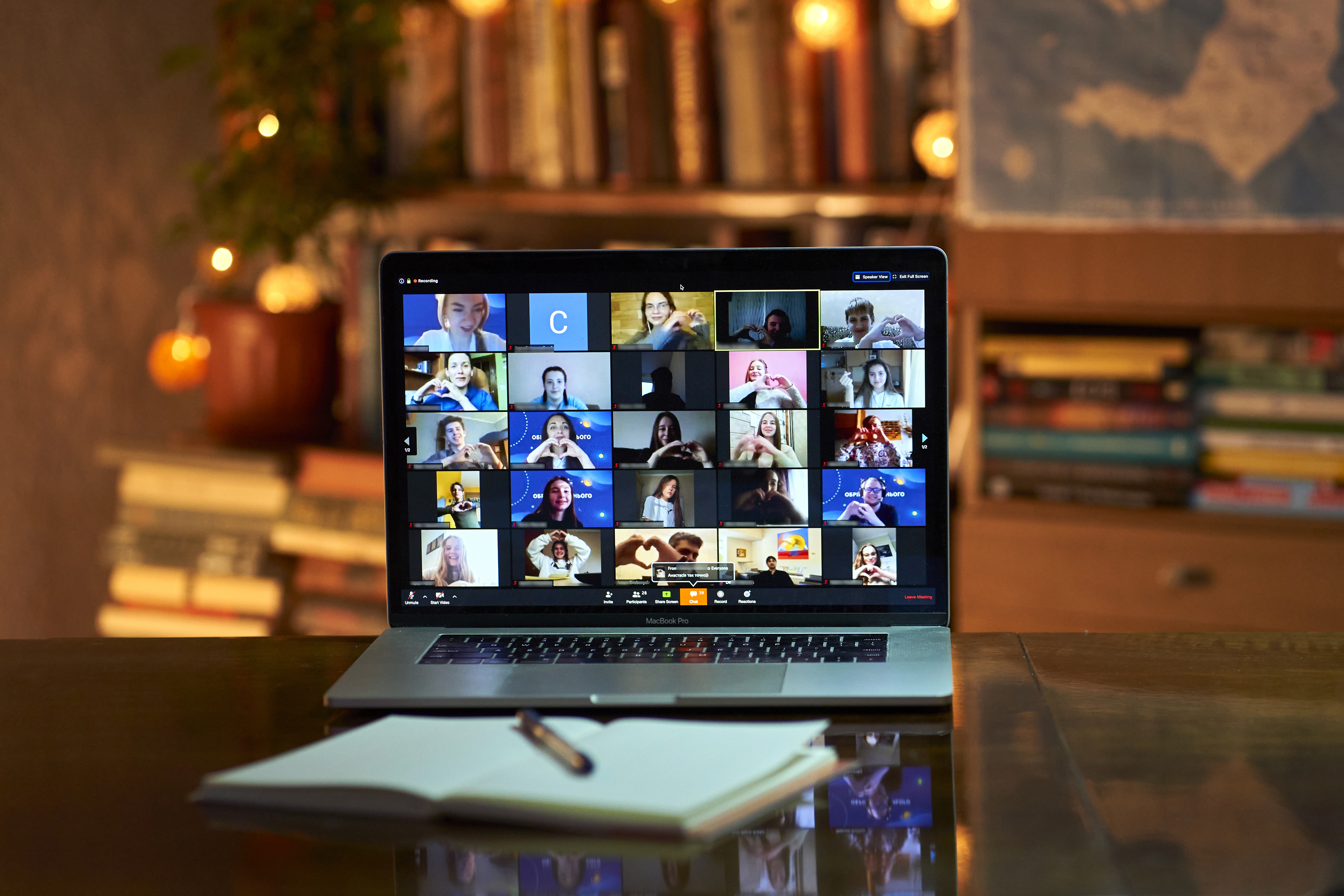 Igor Yefimenko, manager of the Klitschko Foundation
When we first talked about this idea, I was a little skeptical. This is not my first year of running projects, and I know that teenagers are most looking forward to live communication with like-minded people, changes in living conditions and honest conversations with moderators — just those things that we could not provide. Asked participants, they said they were ready for the online format, saying they had waited too long for the project to give up now.
There were no problems with the program, because my colleagues and I decided in advance who was doing what. We gathered at an online conference, broadcast a document on the screen and edited it live, appointed a person in charge, and wrote down in minutes who was doing what. And no matter how well you think out your plans, I advise you to prepare morally for failures. We knew that the Internet would disappear, curious parents would have to water the flowers during the session, and teenagers could refuse to participate due to workload - but this is beyond our influence. Take a deep breath and accept the situation. Reflect with the team and support each other.
Tip: agree on everything on the "shore". It was unusual and difficult to work in such conditions - sitting at a computer for three days in a row, and weeks of training. Therefore, if not for planning, could not withstand the load. And it became even easier to see the whole picture when they wrote an action plan - ridiculously detailed, but effective in practice. Who switches slides, who turns on videos, who takes screenshots. The more plans you have "B", "C" and "D", the better. Although it may seem absurd, you will be ready for all events. And don't forget to support your colleagues if an unforeseen situation arises.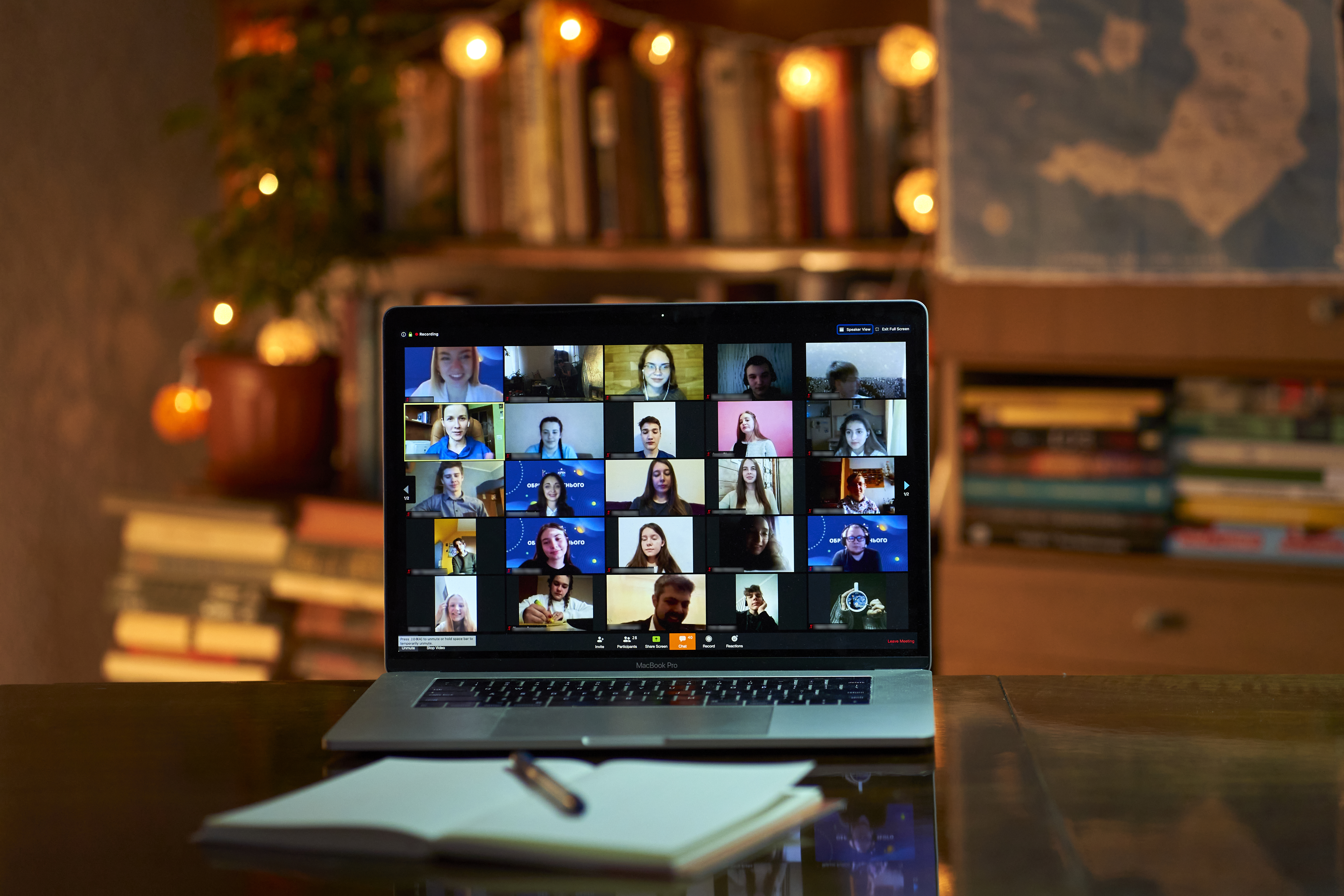 Denis Poltavets, director of Program Development in the Aspen Institute Kyiv
Holding the seminar "Horizons of the Future" online was to some extent a challenge and, of course, caused quite significant changes in the program. We had to abandon those parts of it that were based on the spatial interaction of the participants. However, due to the high qualification of the moderators and the motivation of the participants, this shortcoming was overcome — it was possible to organize discussions in small groups, and engines, as well as a joint musical break.
In general, the dialogue of the participants was sometimes even deeper and more sincere than during the offline seminars. The thoughts and comments of the teenagers touched on really important and acute issues related to the search for their own purpose, assessment of the real life situation, close relationships, etc. I think the seminar was a success. At least he definitely exceeded my expectations. Excellent work of moderators, clear work of the team of organizers of Aspen Institute Kyiv and Klitschko Foundation and readiness of participants for open communication are the main factors of success. I would like to take this opportunity to thank everyone who participated in the organization and holding of this seminar.
Tip: take risks and adapt. For example, we gave participants the right to moderate, and the moderators were able to express their position. So the teenagers saw what the moderators felt and consolidated their knowledge. They also came up with an online reward format. Who knows if we would have invented such formats if it were not for this situation. Next time at the offline seminars we will also try to give the participants the right to moderate, and before the start of the main program we will hold several sessions online. If they hadn't tried, they wouldn't have received so many lessons and insights.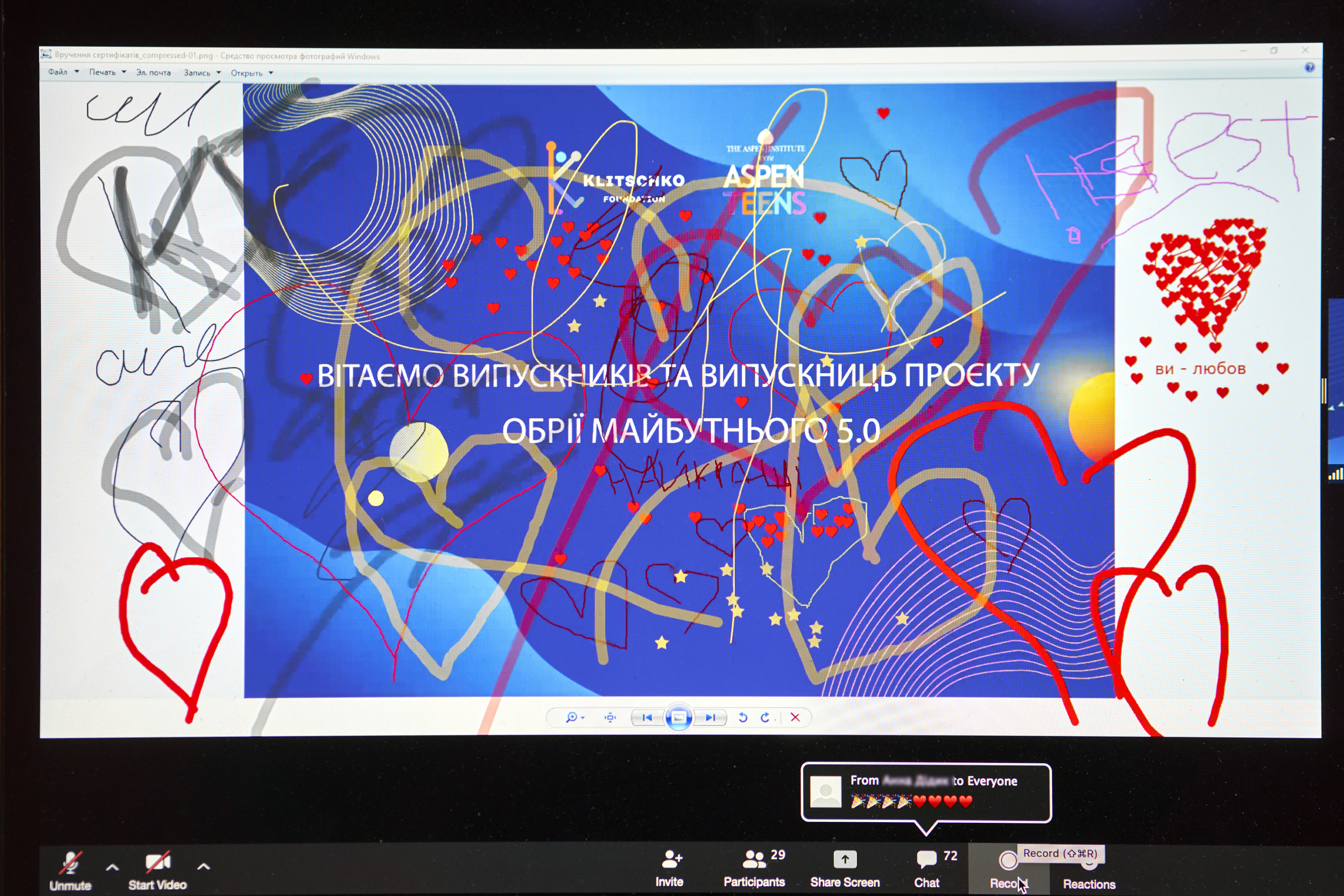 Platon, the project participant
I got acquainted with the format of the seminar last year on another project of the foundation. I liked that in a circle of like-minded people I can be real and express my opinion freely. When he learned about the online format, he was upset because he wanted to see his friends — some of the participants met on other projects, while others chatted a lot. However, I decided that it was still worth a try. And it's good that he didn't give up.
The project allowed me to understand that you need to learn from your mistakes in order to gain useful experience and not repeat them, and it is worth sharing your thoughts to understand your own life. Despite the distance between the participants of the seminar, I was able to pass through the emotions and experiences of everyone. I understood that it is not easy for everyone now, so I think the most important thing in the project is the good mood of the participants and the willingness to support each other.
Tip: Motivation and optimism are crucial. We were motivated because we had feedback from last year's participants and knew how we would change after the project. And they were positive, because they knew that it was not easy for the organizers now and it was important for them to see our response. We sent jokes, memes, sang and danced to the chat, all this helped not to lose enthusiasm and create a warm atmosphere.
Sergey Korovainiy, the photographer in The Gate Agency
It all started about a week before the shooting. I flipped through the Facebook feed and saw calls to come to an online rally against the reduction of budget support for culture in Ukraine. That is, I thought, if the rally is held online - you can try to be an online photojournalist. But it was not interesting to take screenshots, so I put a laptop on the stool, placed in the background a huge fern. I imagined that I was filming a regular rally - with speakers and the crowd, large, medium and general plans, and so on. Strange experience.
I filmed the Realms of the Future seminar last year as well. Very cool format! This year it was held at Zoom. But the situation was such that I learned about the shooting a few hours before it. The frame was a decent interior, which was supposed to convey wisdom, comfort and love for great texts. Outside the scene lurked universal chaos. In the middle of the chaos, I stood with a tripod, listening to discussions and filming my report.
Tip: Don't be afraid to experiment. If all life goes online, maybe this is the future of reportage photography? And seriously, I really want to return to normal life. And with it — to offline shooting of both the wonderful Klitschko Foundation and other clients and projects.
SEE ALSO
ОБРІЇ МАЙБУТНЬОГО
Філософський онлайн-семінар для підлітків, який допоможе учасникам/цям розвинути навички критичного та креативного мислення, сформувати цілі на майбутнє та визначити свій життєвий шлях
6 проєктів проведено
2630 заявок отримано
115 дітей взяли участь
More about the project