#story2019 Towards changes in the country due to improvements in the community
This summer, Bohdan Haltsev from Odessa took part in the Challenge Academy project and organized his local event for teenagers. The foundation team came to Challenge Academy.Odesa to support Bohdan, to ask about changes after the project and plans for the future. How the meeting went - read in the interview
Local Challenge Academy project. Odesa takes place in the library. Before the arrival of guests, the hall is already prepared, the equipment is set up, the badges are laid out, and the team of volunteers is set to work. Bohdan is preparing such an event for the first time, but there is confidence and calm in all actions, although 2 speakers have just canceled their speeches, and in an hour local TV journalists are to arrive to report.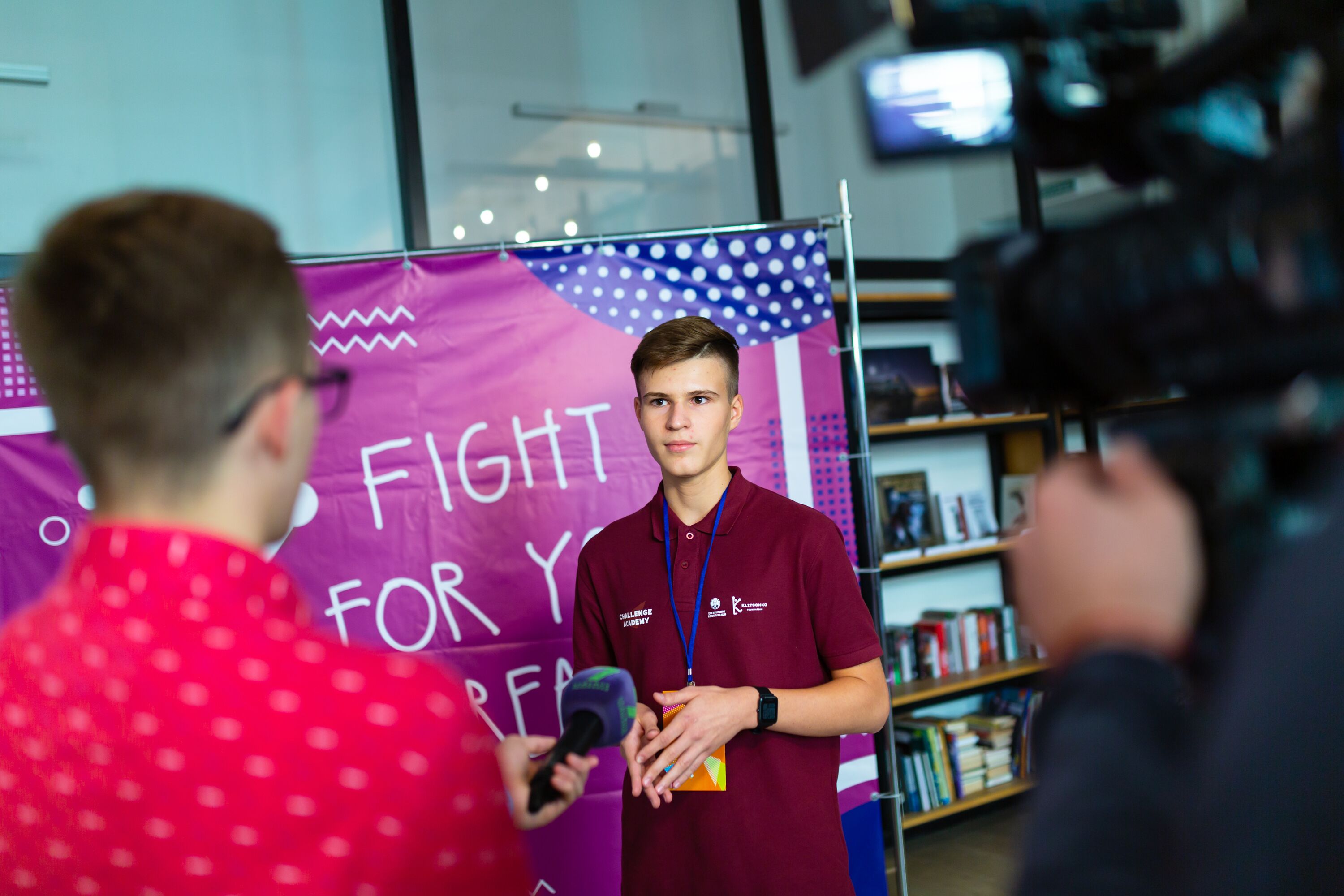 The first meeting between Bohdan and Alina Oleksyuk, the project manager, after returning from Germany, was, of course, sentimental and emotional, although there was probably no day when they did not communicate in the participants' chat. But it is better to talk live about plans for the future and internal changes.
- After returning from Challenge Academy, I really missed the project, I missed the unforgettable atmosphere, the people around me, interesting conversations, lectures and workshops. But at the same time I was excited, my head was filled with thoughts on how to organize your project, where to start, what to do. Since this is my first experience of organizing such events, at some point it seemed that the end had already come, nothing will happen. Then came Challenge Academy members, friends, family with their advice and support, as well as the words "Fight for your dream", which have become an integral part of my life.
- First, I found a place and determined the date and time of the project, then began to negotiate with speakers and look for potential sponsors, in parallel, promoted the page on Instagram and recruited participants. The topic of my project is "Skills of the XXI century and how to develop them in yourself." I chose this topic because without these skills it is almost impossible to achieve my goals and effectively meet the challenges.
In the program for the day - Bogdan's story about his experience in Germany and the method of F.A.C.E. the Challenge, which the participants studied on the project, a lecture by Alina Oleksyuk on teamwork, lectures by local experts on career guidance and public speaking and team building by Natalia Drugak, communications manager.
During the master class of the first speaker, we learn that the other two will not come.
- I had grandiose plans, so not everything came true. There were no two speakers on the project, we had to increase the time for networking, but as a result it turned out that all the participants were happy, because they had more time to communicate and take photos.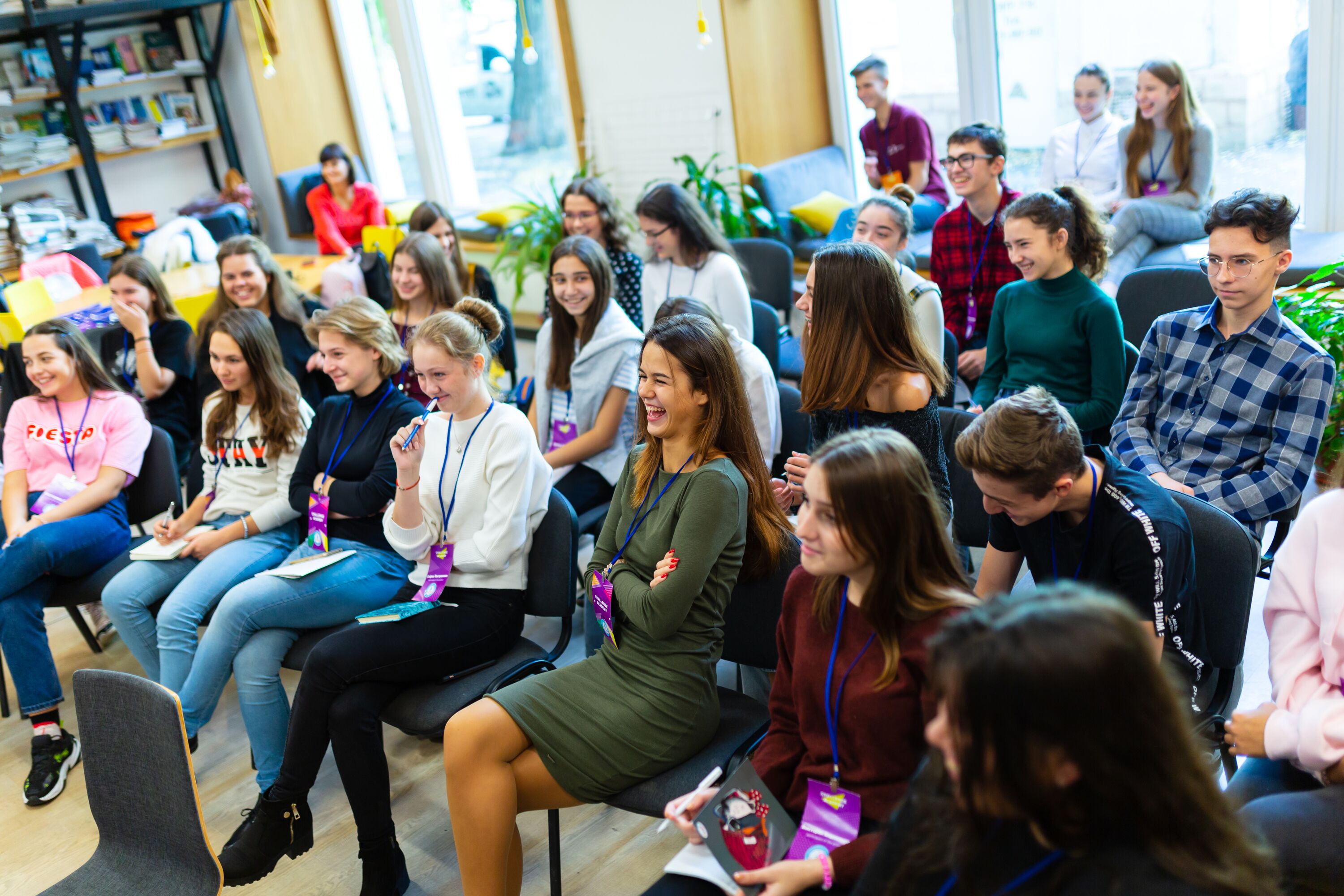 A week before the project, I received a letter from the library. It turned out that the institution was not working on the day when I was supposed to have a project, and they forgot to tell me about it. Of course, I was a little confused, but I gathered all my strength in my fist, remembered "Fight for your dream" and went to negotiate with the management. I explained to them the importance of the project, the fact that I have already found speakers, participants, and guests from Kyiv and even Germany. In the end, we managed to find a way out of this situation. The main thing - do not panic!
Passers-by stop at the window and watch the action - you don't often see such a revival on Saturday morning, and even in the library. Bogdan's guests quickly find a common language and have fun together. Many of them knew each other before, so there were no problems with mutual understanding. It's nice to see everyone trying to help Bohdan clean up after a coffee break, set up exercise chairs, or hand out materials. Next to Bohdan all this time his mother, Tetyana Volodymyrivna:
- These teenagers are different, they know how to make decisions and take responsibility. I helped transport all the things here, Bogdan did everything else himself. He only told me how everything goes. Bogdan learned about the project from acquaintances when he was at another event. I then said: if you want - submit a questionnaire, despite the fact that the Challenge Academy was held in Germany. I am one of those parents who always support in all initiatives. He is independent, so I was not scared.
After Bohdan's return, I noticed that he increasingly wanted to see something new, to develop, to do projects. I want to advise parents of teenagers to learn to believe, to trust their children. Do not be afraid to let go and do not do from childhood what the child can do himself.
During the last coffee break we talk about plans for the future.
- After returning, I decided to learn to play the guitar and learn German. And I dream of creating my own business. I still don't know exactly what field it will be in, but I want it to be something innovative and beneficial to people. I also plan to connect my future with politics and, of course, I would like to hold the highest position - to become the President of Ukraine. My grandparents were deputies, so I probably have their leadership blood, the desire to change the country for the better.
I'm already taking the first steps - I'm running for president of the school, because my team has accumulated a lot of ideas that we have long wanted to implement. We would like to change our school's attitude to ecology and make students' lives brighter.
I advise you not to be afraid to take part in various projects, seminars, trainings and other events, because it's really cool and not boring: new acquaintances, useful information, self-development ... And also Fight for your dream!
SEE ALSO
CHALLENGE ACADEMY
Міжнародний освітній проєкт для підлітків з України та Німеччини, які прагнуть навчитися ефективно боротися з викликами, стати екосвідомими й розвинути свої лідерські якості.
More about the project