#story2019 Nothing is impossible
Danuta Patsula, a participant in the Zero Waste School project and a biology teacher at Lviv's Oriana Lyceum, talks about the eco-habits that have become part of her life, preparing for a local project and giving eco-tips for beginners.
Most recently, when we were going to drink coffee, eat some delicacies, the city center was full of just incredible aromas, which were impossible to resist. It smelled of coffee, chocolate, cakes…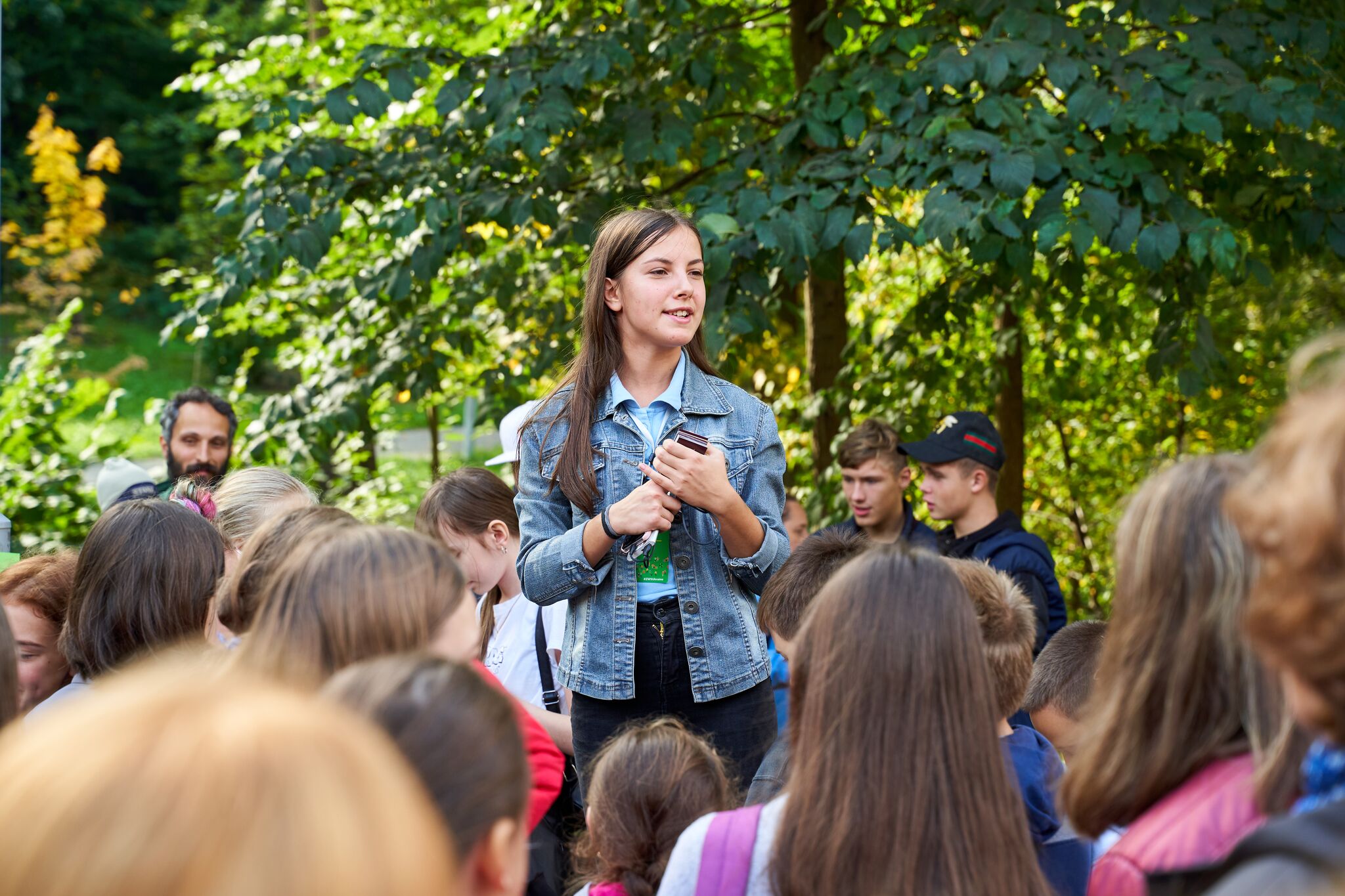 But on May 28, 2016, absolutely everything changed. A large-scale fire broke out in the largest landfill, where all waste was transported from Lviv. The fire killed three young firefighters. These were ordinary young men who, as always, left the house, said goodbye to their wives and set to work. But in the evening they did not return home. This tragedy shook not only us, but the whole of Ukraine. Everyone started complaining about the officials, but only a few realized that they had to start with themselves. We realized that it is more efficient to sort waste and hand it over for recycling.
Personally, it was not difficult for me to start sorting, because after my first education I am an ecologist. I realized that other people didn't even know what to do. We decided to involve children who study in our lyceum in sorting. We often invite environmental activists to lectures and trainings on waste sorting. An additional incentive for us was the funds received from the delivery of waste paper. With this money, we set up a student government office, made repairs there. It has also become important to create branded eco-bags, we give them to all our lecturers and guests.
Impressions of Zero Waste Day lived up to expectations, because our assembly hall was simply crowded - our students, teachers, guests from other schools, parents and even activists of local condominiums came. We agreed in advance with all lecturers. Their speeches were discussed so that everyone had their own specific topic. Our team was the first to perform, we told about our adventures in Kyiv and the eco-week we spent in May.
Then we listened to lectures on waste processing, the work of the sorting station, and then the students of our lyceum under the guidance of a chemistry teacher showed experiments. We have seen that plastic does not decompose so easily and needs to be recycled. We went from theory to practice - watching a show of clothes made from recycled materials and old jeans. The display of the collection was simply incredible. The models were escorted from the stage with applause and applause.
Between the speeches of the lecturers we did exercises for team building. We saw the effect the next day during the crowd. Many children, parents and teachers came. After conducting safety training, we went to the largest park in our area. After the toloka, our branded bags were raffled off, which became beautiful and practical gifts for our participants. We worked on all the risks and threats at the Zero Waste School project in Kyiv, so the local project went smoothly. We decided to invite more lecturers than needed, and we did the right thing, because the day before the start, two lecturers called us and said that they would not be able to attend. So the advice for the next organizers of local projects - remember, no one has canceled the human factor.
Is it possible to live completely without waste? Our team believes that nothing is impossible! If you want to change something in your country, start with yourself and your loved ones. One of the main problems we face is that people don't know where to start.
Here are my tips:
 The first step is to buy an eco-bag. Polyethylene can be found anywhere. Think about whether you want your children to see beautiful flowers in the park or hundreds of packages from the supermarket;
 Think twice about whether you need to buy new things. Save natural resources and own funds;
 Put at least one more container near your usual dumpster and collect paper, for example. At the end of the week you will be surprised to see the results;
 Dispose of waste paper and glass. Make money and then buy yourself something mega-cool. Something that is always a waste of money;
 Get creative. There are a million ways on the Internet to turn waste into really useful things;
 Empty conversations will not lead to anything good. Just act!