#story2019 If not us, then who?
Матковська Ірина, заступниця директора з виховної роботи Вінницької школи №18 та учасниця проекту Zero Waste School, розповідає про власні еко-звички, мотивацію і зміни в школі та громаді.
Iryna Matkovska, Deputy Director for Educational Work at Vinnytsia School №18 and participant in the Zero Waste School project, talks about her own eco-habits, motivation and changes in the school and community.
Vinnytsia greets us with rain and thick fog, but such weather will not interfere with the organizers of the local project Zero Waste Day and the team leader, Matkovskaya Irina.
The foundation's team visits local projects in the fall, and so we visited Vinnytsia. On the way to school we seem to visit a tour, because our trolleybus goes through the city center. In 30 minutes we leave at a stop and get into the labyrinth of the sleeping area. The school peeks out from behind the trees, it is difficult to confuse it with any other building - the monumental mosaic at the main entrance is immediately breathtaking. A group of cyclists was already lined up on the porch of the school - teachers and students in bright vests, mini-tanks for sorting were fixed on the trunks, which would be filled with waste in an hour. Clearly on schedule, the column will move towards the neighboring school - activists will share experience and knowledge with others, immediately show by example where to put different types of waste.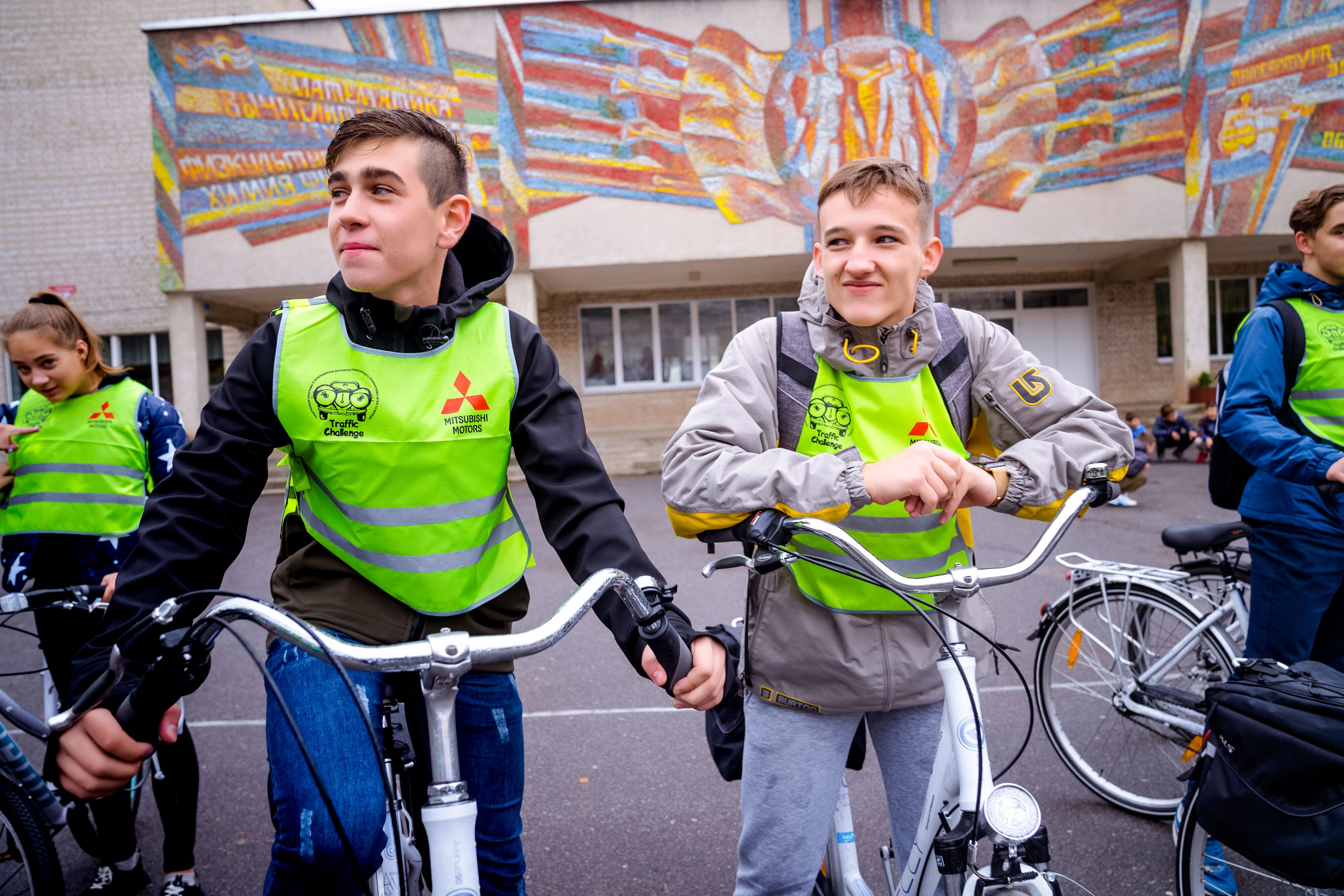 At this time, Irina meets us on the porch and invites us for a tour of the school. Immediately notice the tanks for sorting plastic, paper and other waste. In Irina's office there are stacks of booklets about the correct sorting, they will be given during lectures in other schools. Irina's special pride in the closet is materials for responsible consumption and sorting classes.
- We have several blocks of lessons on this topic at school. Some we developed together with friends from the NGO "Climate Education", others were provided by the "Association of Energy Efficient Cities of Ukraine" and GIZ. Over the last year, Vinnytsia City Council has been working closely with educational institutions on sorting and involved school specialists, environmental activists, and NGOs in the development of lessons. Today we have a series of lessons "Smart Consumption" and "Easy to Divide" for students in grades 7-11.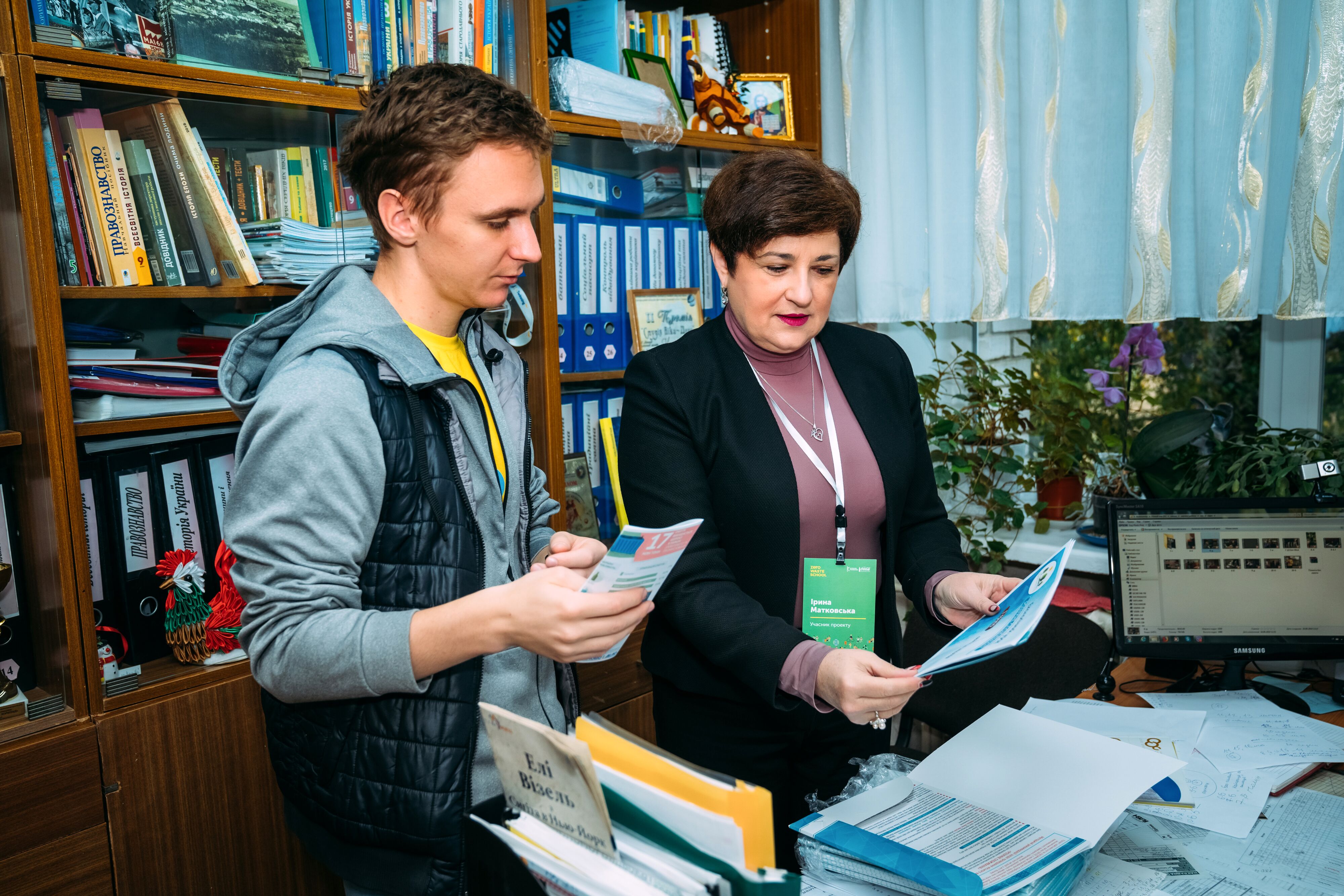 Irina enthusiastically shows her eco-bag.
- See, I remember the training tips. Some habits have already become a part of my life: I have started sorting paper, plastic and wet waste so far. I have always been responsible for the use of water and light. I really want to stop using plastic bags, but it doesn't always work out yet.
Call the phone. Teachers from other schools report that the cyclists arrived safely and are giving a lecture.
- The important thing in such events is to find partners and negotiate. The main thing is to be able to communicate.
Another object of Irina's pride is a room with waste paper. We walk down a dark corridor until suddenly a light appears. There are motion sensors all over the school - the light doesn't just go on. And the school has an autonomous heating system, the temperature can be regulated independently.
The room has an impressive number of packages with written-off notebooks, Whatmans and cardboard boxes.
- Student self-government is engaged in all this. They know very well how much waste can be obtained for the building. We keep receipts, everything is accountable. Students decide for themselves what to spend the money on, so they are very motivated. We hand over waste paper for some time, and on days like today, we determine who passed the most and award that class with a prize. Although, of course, everyone receives diplomas. One of our students is ill, so this time they want to give him the money for waste paper. Our school is focused on charity.
The next step in the schedule is the "Easy to share" lesson. The moderator of the lesson on the interactive whiteboard shows a presentation specially created by the designer for this lesson. Clear and modern illustrations motivate students to discuss. The moderator tells information about each type of waste and methods of disposal, and then students are divided into groups - the information obtained is immediately trained. The task is simple: cards with pictures of waste to lay out in the appropriate containers.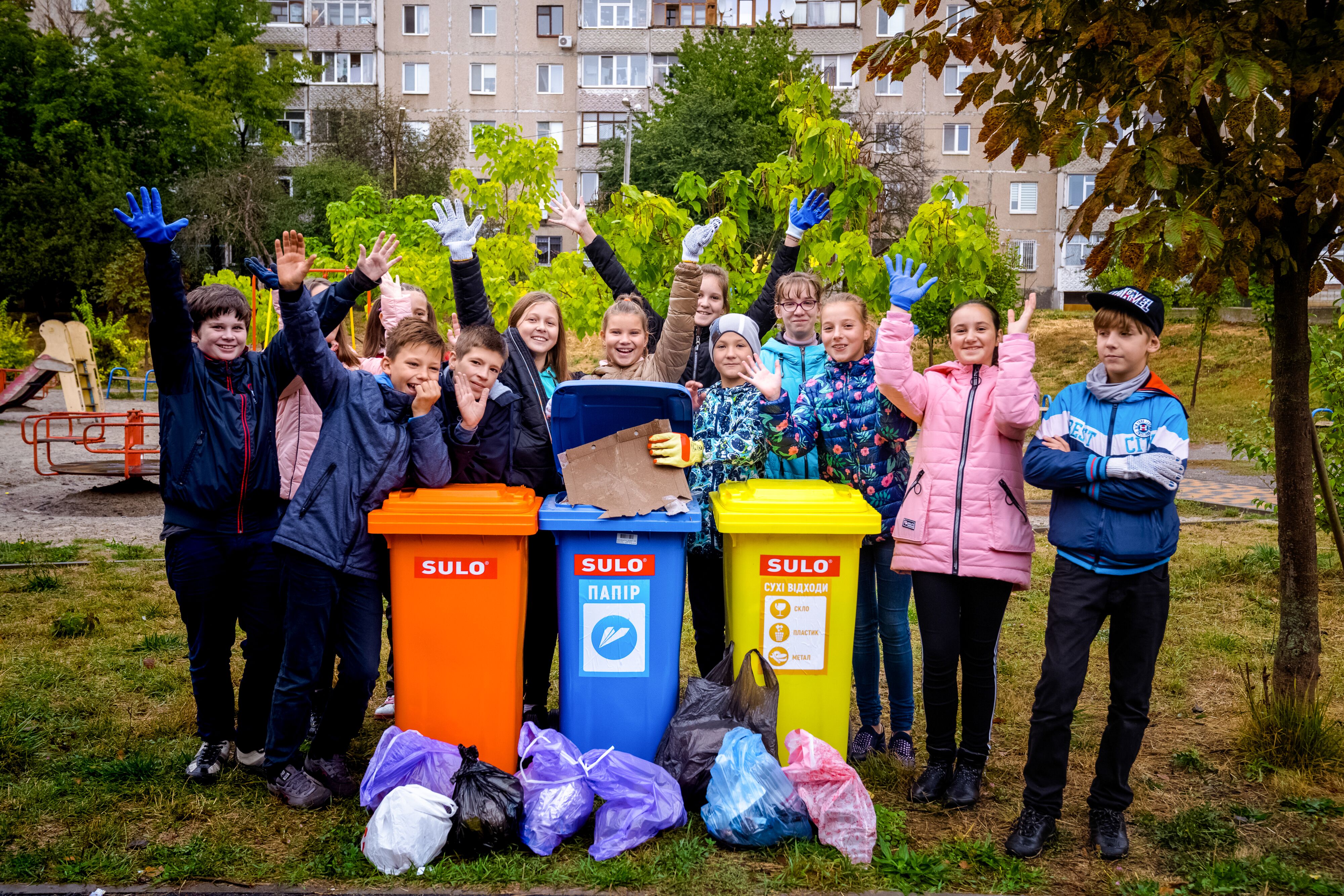 This format of classes does not leave students indifferent, because working with cards and in groups is much more interesting.
Then we all go to the ground together. Students calmly and confidently collect waste - they already know exactly in which tank to put the found garbage. "Sasha, please put this tank here. Olya, the package is there, "Iryna addresses each student by name. 1700 children study at the school.
- I don't understand people who say they don't like working with children. I always tell them "you just didn't work normally with them."
The system seems set up. Irina says that this event is not the first environmental one.
- We have been organizing similar events for several years. If not us, then who? We started to study the issue of energy conservation, and realized that it will be a great help if we learn to sort garbage. And after visiting kindergartens in Germany, where pupils at the age of 3 know about separate waste collection, the question of whether or not to teach was not even discussed. We never make fireworks - we always work systematically.
- In the future we want to hold city eco-festivals, hold a Zero Waste Day for students of other schools in the city, to continue conducting educational energy audits and trainings for teachers in the region.
The last event of the program is a video contest on an eco-theme and awarding classes for collecting waste paper. Some teams point to video tips for sorting, others illustrate simple habits that everyone can make a part of their lives, someone's waste comes to life and tells where to take them. The rewards of the participants started from the end - in the eyes of all students there is passion, representatives of the teams, holding their breath, waiting for their class to be named. Winners receive board games for team building.
This Zero Waste Day is officially over, but there will be many more, Irina promises.
- We are trying to change the attitude of the people of our city to the environment. We want everyone to understand that the resources of our planet are limited. We need to leave a prosperous Earth to our descendants. Is it possible to live completely without waste? They say you can. We will strive for this, because it all starts with you.
SEE ALSO
ZERO WASTE SCHOOL
Освітній екопроєкт, покликаний розвивати культуру сортування відходів у школах та громадах і популяризувати екодружній спосіб життя.
More about the project