Interns visited the office of Poparada company
November,15 interns of the Klitschko Foundation visited the office of a young, but extremely successful and progressive company Poparada and talked to its head about how to create a cost-effective and creative business in Ukraine. The Director of Poparada Alexei Goncharov conducted a tour around the office and said that we should keep in mind what to look out for and what to emphasize when starting our own project. The meeting resulted in tons of pleasant impressions and useful information.
"Often students ask themselves questions that can not get a response from ordinary people," how to create your own business? "," How not to be afraid to start? "," What problems we may face at the beginning of the activity? ". Our dream team had a wonderful opportunity to get answers to all the questions from the CEO of "Poparada" Alexei Goncharov. Huge, but at the same time ergonomic office, a great lodging and people concentrated on working process - all this creates an atmosphere of harmonious and effective mechanism in Poparada. The first conclusion I came to after the first five minutes in the office - is a need for a comfortable working space around and right team. To me, this is one of the keys to successful business and with Poparada the substantiation can be seen clearly. For me it was a great discovery that the CEO might be open and communicate with students as the ones who are equal with him. The feeling of complete openness, authenticity and mutual understanding hadn't left me during the entire meeting. Such personality inspires to do you own business, promote student initiatives, create start-ups, and be afraid of nothing. As well as spend less time online, read more books and communicate with successful and interesting people. Besides, Alex gave us personal advice: not to waste time for nothing, always do our bet, "because no one will ever do nothing instead of us". Three hours passed very quickly, and at the end of our meeting I was filled with inspiration for future work, and joy that I can "move mountains". Thank Poparada and personally Alexei Goncharov for the unique opportunity to dive into the world of real business success and to get acquainted with the "inner life" of "- Victoriia Posieva, an intern at Klitschko Foundation.
"As a result of the meeting I got positive experience. For a short time there have been many useful things. First of all all the questions on the joint project were discussed, the intermediate goals set and now we know which way we should be moving. Secondly, the information obtained from the executive director of a successful Ukrainian company is unique. For myself, I made notes on two pages of a notebook and received the I have never thought about from Mr Alexei. I had the biggest impression of discovering such a simple thing: when a child is walking down the street, he is interested in all the details of the surrounding world. And we think we know it all, insert earphones in ears and do not look around. And thus ourselves we close the channels of information we will never be able to get again. "- Vladyslav Markuts, an intern at Klitschko Foundation.
"I liked meeting the representatives of Poparada and the visit to the office. It was interesting to learn the history of how it was developing and what is happening now. I have become very close to the philosophy of the company, their vision on how to do business . But most impressive was the fact that this successful company wants to be socially responsible and conduct an interesting and useful project that will provide new opportunities for young people. I think that many companies lack such policies, and Poparada can be an example for them. It was nice to talk to Alex, who has extensive experience in various fields, and most importantly - he shares it easily with others. He does not focus on success, but talks about fails that happened in the company. These stories are important for understanding how the business sphere works. At this meeting I learned for myself that will not be afraid to experiment, you should be able to understand your and your client's interests and set the right priorities. "- Lyubov Sharapova, an intern at Klitschko Foundation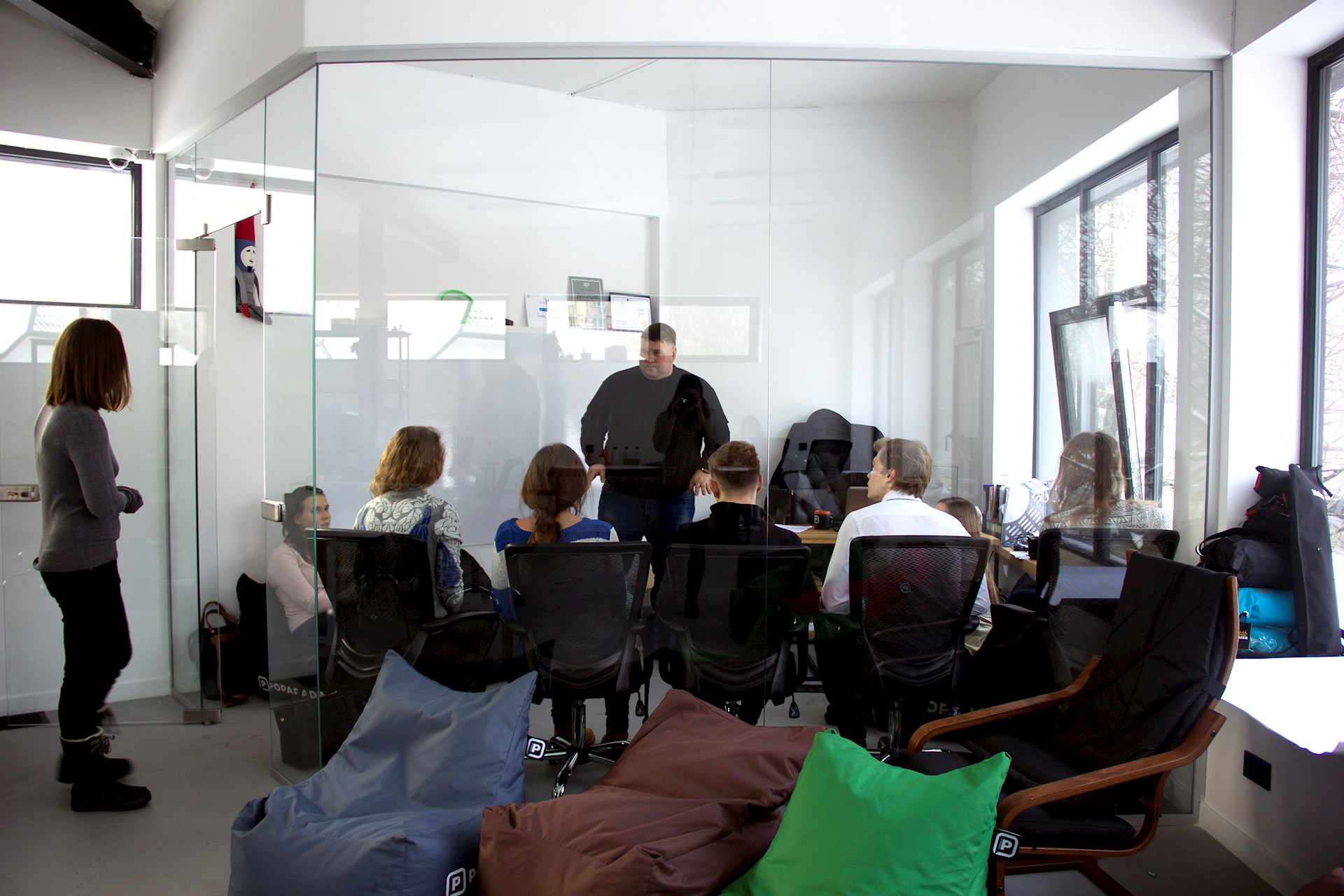 "For me it was an absolute surprise that during a crisis in Ukraine there are companies that are willing and able to allocate money for social projects. That's why I really wanted to get acquainted with the Poparada team - and as soon as project manager Anna announced a trip to their office, I immediately signed up for it. The people I met, and the ambience in the office pleasantly impressed me: stylish two-story building, a showroom on the ground floor, office-style open space on the second floor and the roof, where there will be a chance to work later - the whole atmosphere definitely helps creativity. We were greeted by extremely pleasant and hospitable office staff. All employees work in a huge room, and the head is separated only by a glass wall - so that the office promotes transparency and cooperation of all employees. The director Alexei invited us to his stylish room, which we immediately took up the case and started discussing and finishing our project. I should mention that Alex listened with a respect to every opinion we, interns, expressed, despite the fact that we, of course, are less experienced than him. I extremely liked his openness to our ideas, because, as he told us you can learn from everybody and all the knowledge and experience is useful. After discussing the project, we had a tour around the office and got the answers to all questions which interested us, relating to starting a business, work moments, a personality of a leader etc. The meeting was very informative and helpful to me, because I saw the organization from within. After those visits, I realized that in the future I want to work in such an atmosphere that prevails in Poparada "- Anastasia Kustovitova, an intern at Klitschko Foundation.
"A visit to the Poparada company left only positive emotions, because not every day I get an opportunity to talk to a leader of successful business in Ukraine. We had an opportunity to ask any questions, learned how to deal with the pitfalls Ukrainian enterprises face which can arise in the running of the company. Creative Space and informal atmosphere not only contributed to a productive dialogue, but also stimulated creativity. As a result, we were able to present our own idea of the project's development to the director of Poparada, discuss it with him and come up to interesting solutions for both sides. I am sure that the feeling of inspiration after the meeting hadn't been leaving any of us for a while"- Lisa Rudenko, an intern at Klitschko Foundation.
"It was the first company I saw from the inside. And I am very glad that my first experience was exactly like that. Alexei Goncharov, a CEO, impressed me the most. A very friendly, educated, and most importantly, fun person. During our talk it had been unclear what time is it, it changed only when it got dark. Although we did not see production during our tour, the impressions were still enormous. We tested all types of frameless seats personally, convinced ourselves about the quality of the product produced. I was really fascinated by the design of the office, everything was in a very quiet manner, according to the director, they decorated premises themselves and controlled the entire process of repair. Our conversation with the director of the company lasted for around 3 hours, during which we discussed a joint project of Roparada and Klitschko Foundation, Alex told us about running the business in Ukraine and later answered our questions willingly. Alex shared his experiences and explained the process of starting the business in Ukraine, how not to be afraid of discovering new horizons and always learning, no matter what. Talks like this only help and encourage you to create something new and start your own career. After talking to Alex and visiting the Poparada office , I was full of strength and confidence that I will succeed. I can start now! "- Oleksander Chuzhyk, an intern at Klitschko Foundation.