50 schools participants of the education project Zero Waste School are preparing for Zero Waste Day
In May, the participants held a two-day training in their school and communitites and are already preparing for the next stage of the project - Zero Waste Day.
Implementing own projects, the schools learned from their own experience how to transform ideas into action. They conducted lectures and trainings on ecological culture in the society - how to sort garbage, interact with the school administration and local authorities, establish partnerships, plan and implement projects.
As a result, as at on August 1, schools:
They engaged 12 360 students, teachers, parents and residents of their city to the project activities;

Installed 212 trash bins;

17 schools have won a composter for the recycling of organic waste from the project "Compola", which discovered during the Zero Waste School in Kiev;

Two books-encyclopedias "Journey to the wonderful world of animals", made from packages from dairy products and Tetra Pak juices, were received for productive work and successes achieved;
Collected and give the second life for amazing amount of recyclable materials. See on the infographics: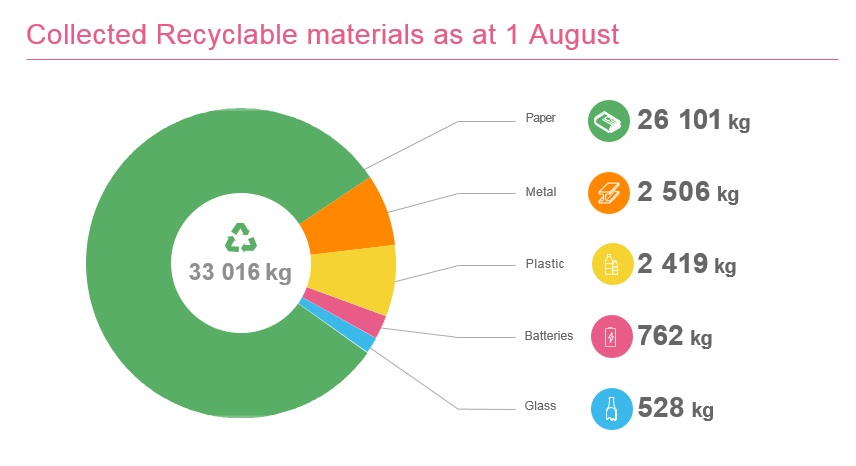 Nowadays schools are becoming unifying centers, where ideas are developed and dreams are being realized. Thus, not only local but also global problems can be solved.
Lyudmila, the teacher of the general educational Novopetrivska school of levels I-III of the Odesa region, expresses her own impressions:
"Upon returning home, we immediately held talks with the regional department of education and tourism to get support for our idea. In May, we organized an educational work in our school, where we talked about the culture of garbege sorting and proposed our strategy for solving the ecological problem in the city. The training gave a significant resonance, other schools are asking us to conduct training in their schools. Therefore, from 14 to 15 September, we bring together 8 schools from our Reginal communities. We will unite for one purpose - to make our city clean. Together we can do much more, especially when you have the knowledge and confidence"
From 1 to 27 September schools will hold a two-day Zero Waste Day in their community. The best projects of the twenty-five participating schools of Zero Waste School will receive a press for briquetting waste, which will help schools to independently seek funding for their school needs.
SEE ALSO
ZERO WASTE SCHOOL
Освітній екопроєкт, покликаний розвивати культуру сортування відходів у школах та громадах і популяризувати екодружній спосіб життя.
More about the project